What's the Maturity of Your Service Operation?
Do you want to better understand the maturity of your service organization? Are you a "developing" organization or have you progressed to the "innovation" stage? Are you falling behind the top performing service organizations? The Service Operations Health Check will give you a snapshot view of organizational performance and show you where you fall on the service maturity scale. 
Service executives today face the challenge of developing effective strategies, improving operational efficiency and driving world class levels of performance. The Service Operations Health Check supports these goals by providing an unbiased review of a company's service performance.
Evaluation against 25 service business factors
Identify opportunities to improve service performance
Align the perceptions of the service management team
Get direct feedback from industry experts
Align Perceptions Across the Organization
In many companies there is a mismatch when it comes to the perception of operational performance. Service executives view performance very differently than middle management or individual contributors who engage clients on a daily basis. The Service Operations Health Check identifies these gaps in perception and helps drive alignment across the organization. By aligning perceptions management can focus on the real issues that affect performance and ensure that the organization is driving towards a common objective.
Where are You on The Service Maturity Scale?

Mapped to our Service Maturity Model, the results of the Service Operations Health Check highlight organizational performance on a continuum and demonstrate how well a company stacks up against industry standards and other top performing service organizations. The maturity model includes five phases, from Developing to Innovating. Companies that take the Service Operations Health Check get a clear picture of where they fall on the continuum, which enables them to focus their organizational improvement efforts.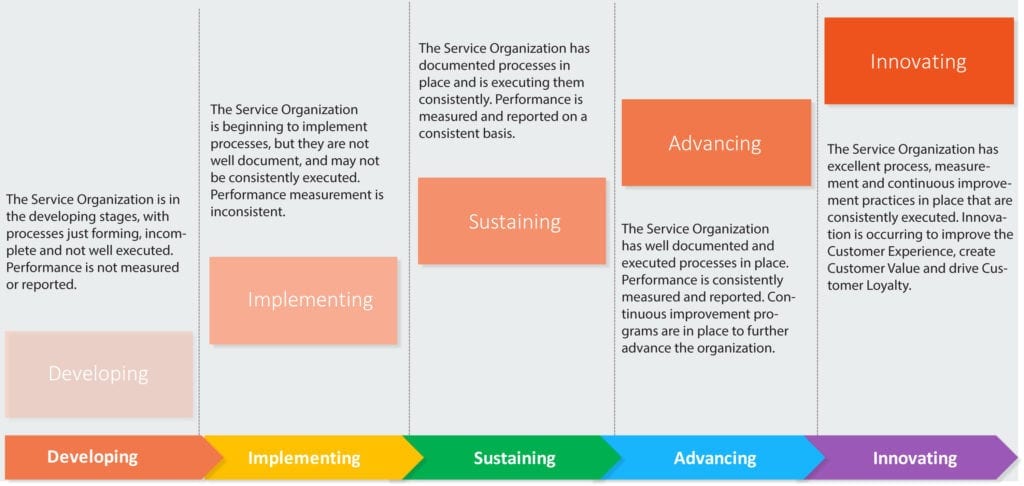 Service Operations Health Check Criteria
The health check criteria is based on the internationally recognized Service Capability & Performance (SCP) Standards. Over the past twenty years, these standards have defined the global benchmark of service excellence. They are currently used by leading technology companies around the world. Spread across eight distinct categories, the criteria include 25 business factors necessary to ensure service excellence.
Contact Us to learn how the Service Operations Health Check can help your company drive higher levels of performance while creating greater efficiency within your service organization.